Amazing worlds of Anna Berezovskaya
11.09.2019
Poetic realism of the artist Anna Berezovskaya
Anna Berezovskaya's unique style and technical skill set her apart from many contemporary artists around the world. She calls her author's direction "poetic realism", in which abstraction, surrealism and modern reality are intertwined.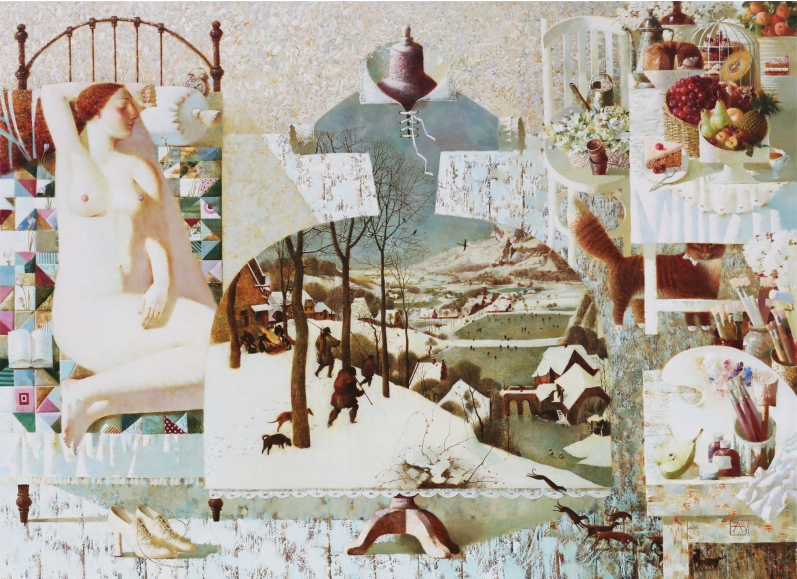 "Bruegel's dream" by Anna Berezovskaya
The artist's amazing worlds attract the viewer at first sight. The abundance of details encourages you to stay inside the picture and decipher its message. Each work is like a dream. It merges incongruous, absurd things: mannequins stand on the water surface, Islands that arise from nowhere are populated with everyday objects, Bruegel's paintings acquire a female silhouette. Every detail is written with great love and attention.
Anna Berezovskaya is inspired by Russian culture and literature. For example, locks and keys feature prominently in her work, representing secrets that need to be unlocked, discoveries that need to be made. The repetition of safety pins in her work goes back to an old Russian superstition that claims that wearing an old safety pin will reflect evil. Snails are also very common, as the spiral on the shell of a snail is a symbol of life. Bringing together these symbols, Berezovskaya depicts a unique world full of its own meaning and stories.
"My paintings are a metaphorical, allegorical view of life. The characters in my paintings are symbols."