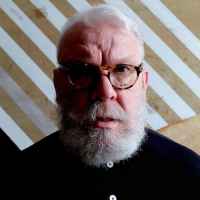 Artist Alexander Gerasimov
About the artist
Painter, graphic artist, installer. Born in 1955 in Riga. He studied at the Belarusian Theater and Art Institute at the Art Faculty in the design class.

Since 1978, he has been living and working in Leningrad — St. Petersburg. Member of the Union of Artists of Russia. Full member of the Academy of Contemporary Art of St. Petersburg. Participant of more than 300 exhibitions in Russia and abroad.
Art critic's comment
In our amazing time, when the very possibility of art is in question, the painting of the St. Petersburg artist Alexander Gerasimov raises the question of the authenticity of the substance of art. Authenticity of feeling, skill, image, beauty. In the era of surrogates, when happiness is replaced by euphoria, and painting is its imitation, an archaic model of art comes to the fore — maintaining the balance of a high creative state. In the middle of the desert of post-modernism scorched by cynicism, Gerasimov creates his secret oasis, reminiscent of "secrets" — primitive installations that have been created by children all over the world for centuries. Looking through the looking glass, we follow the artist's dream into the world of exquisite intonations and textures……Gerasimov's art is in amazement: for the artist, his works are the same spectacle as for the viewer. He turns around again and again to make sure that the miracle is reality. In his melancholic contemplation, Gerasimov achieves supernatural effects, his painting begins to sound. This is the rustle of herbariums, the feathers of angel wings in a dreamlike reality, seasoned with the poison of St. Petersburg mysticism. "Herbariums are dried dinosaurs between the pages of girls' diaries," the artist says ironically. To convey these intonations, the master has no problems with expressive means or technique, on the contrary, he admits that in St. Petersburg he was required to get rid of the brilliance of the drawing and composition. Did Gerasimov manage to adapt to this populist demand of local expressionism? Perhaps not. His painting continues to be a luxury and insists on a classicizing beginning. Music in silence, dizzying slipping with static, confidence with a haughty face of an aesthete looking around, accidentally thrown into the devil knows what garbage dump.Gerasimov does not narrate, but states. He creates his own type of asexual, angelic, iconographic beauty. The masterly surface, texture, pictorial fundamentalism, which have now replaced the text overloaded with ideology, is the starting point for the future of art. Gerasimov himself is a wanderer guide for travelers to the Beautiful, now "encrypted" in the secret territories of interjections. His experience, taste and knowledge guarantee nothing but a fabulous adventure.

Andrey Khlobystin.