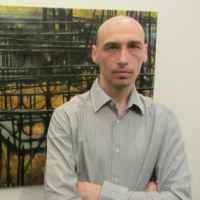 Artist Alexander Grekov
Diploma of the Ural Branch of the Russian Academy of Painting, Sculpture and Architecture - 2007
Diploma of the Ural Branch of the Russian Academy of Painting, Sculpture and Architecture - 2007
About the artist
Born in 1982 in Cahul, Moldavian SSR.

2002 – graduated from an Art Department of the College No. 65, Perm
2007 – graduated from the Ural branch of the Russian Academy of Painting, Sculpture and Architecture, Perm
The artist lives and works in Perm.

Awarded with a silver medal of the Russian Academy of Arts, laureate of the prize named after the artist N. Fechin, participated in contests 'Against the Current,' Kazan-Samara-Moscow (2012) and 'The Nightingale Garden,' at the Green Art Gallery, Perm.

The artist's works are found in the collection of the Erarta Museum of Contemporary Art (Saint Petersburg), the 'New Collection' Fund (Perm), and in a variety of private collections in Russia and abroad.

Personal and group exhibitions:

2007 – 'Reality squared,' Central Exhibition Hall, Perm

2008 – 'DICO. Wooden idols Contemporary,' Gallery of Contemporary Art 'GreenArt ,' Perm

2010 – 'Revolutionary Realism,' personal exhibition, Gallery of Contemporary Art 'GreenArt ,' Perm

2011 – the Fourth Moscow Biennale of Contemporary Art

2012 – '(Un) conditional reality. New Art of Perm,' Erarta Museum of Contemporary Art, Saint Petersburg

2013 – 'Vector Perm,' WINZAVOD Contemporary Art Center, Moscow

2015 – Marina Feldblum Gallery 25/17, Perm

2016 – 'Vasilisa in Wonderland,' Erarta Museum of Contemporary Art, Saint-Petersburg

2016 – 'Contemporary Realism,' Sterkh Gallery, Surgut

2016 – 'My Universities,' Perm Museum of Contemporary Art (PERMM)

2017 – 'Epicenter,' Erarta Museum of Contemporary Art, Saint-Petersburg

2017 – 'Brothers in Different Ways,' Perm Art Gallery

2018 – 'Tragedy in the Corner", Museum of Moscow

2019 – 'Sochi. New Dream or Pandemonium?' Sochi Art Museum

2020 – 'Perm Lokomotiv,' Art Residence, Perm

2021 – 'Caucasian Riviera. Battles for paradise,' Sochi Art Museum

Art critic's comment
Inspired by the classics of Russian realist art, throughout his career Alexander Grekov remains a supporter of the continuation of the tradition of the Russian realist school of painting. The artist's works are distinguished by a high level of mastery of the oil painting technique. However, the skill of Alexander Grekov also consists in the use of non-standard compositional approach, which helps revealing the artist's conceptual reflections on the historical process and the fate of his native country.
Not only the pieces of Alexander Grekov are notable due to the large formats, but they are also peculiar stylistically. Grekov's artistic manner is recognisable, and the subjects of the artist's works encourage viewers to think about pressing life issues. Comprehending the historical realities of the past, the artist expresses his opinion about the present and shares his expectations of the future. "Dead inventory" and ruins in Grekov's paintings are not just silent witnesses of past historical events. Ruined old cars, factories and houses, created by our predecessors, are comparable to the collapsed dreams of Soviet people, who were striving for the "bright future."
Alexander Grekov uses traditional oil painting technique, composition and other media to deliver his ideas to viewers. In his paintings, the artist depicts the world as he sees and comprehends it, and he also demonstrates their attitude to this world.