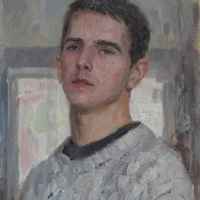 Artist Alexander Savelenko
About the artist
Alexander Anatolyevich Savelenko - Russian artist, painter, graphic artist, member of the Union of Artists of Russia. Participant in more than 150 Russian and foreign exhibitions, laureate of prestigious competitions and awards. Held 6 personal exhibitions. One of the founders of the artists' association "ON EARTH". The works of Alexander Savelenko are held in museums and private collections in Russia, Turkey, Germany, Holland, the USA, and China.

Major awards and achievements:

2003 - Laureate of a silver medal at the International Competition "Third Youth Delphic Games of Russia" (Volgograd).

2009 and 2013 - Twice Laureate of the Governor's Prize of the Rostov Region "For significant contribution to the development of culture and art of the Rostov region."

2012 - Laureate of the State scholarship of the Ministry of Culture of the Russian Federation.

2012 - Laureate of the award (III place) of the All-Russian competition of painting and graphics dedicated to the 175th anniversary of the Russian railways, Marble Hall of the Russian Ethnographic Museum, St. Petersburg.

2015 and 2018 - Twice Laureate of the State Scholarship of the Government of the Russian Federation for young workers of culture and art.

2015 - Awarded an honorary diploma of the Union of Artists of Russia "for success in creativity and assistance in the development of the fine arts of Russia".

2016 - Awarded a laureate diploma for the work "Reflections on people and things" in the framework of the All-Russian exhibition "Youth of Russia". Central House of Artists, Moscow.

2016 - Laureate of the Da Dun Fine Arts Exhibition Award for Outstanding Achievement in the Oil Painting category, Fr. Taiwan, Taichung.

2019 - Laureate of the prize (II place) of the All-Russian Art Festival of Positive Ideological Art "Time Forward". Exhibition hall of the Moscow Union of Artists of Russia, Moscow.