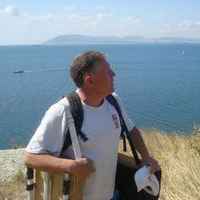 Artist Alexander Belyaev
About the artist
Having gone from mystical to romantic realism, he is currently trying himself in the direction of social art. His works are in private collections and galleries in Russia and abroad. The first large, joint exhibition in the Museum of History of Yekaterinburg "Green street". Organizer and member of the Art Union of free artists "Dr. Shana". The first exhibition " Hello, passer-by!". At the same time, creative cooperation and long-term friendship with Elena Zakharovna Raigorodskaya living now in Germany begin. Thanks to her organizational talent and love for art, she brought together many art fans and artists, known and unknown until then. Alexey Efremov, Sergey Mukhin, Nikolay Korsakov, and Alexander Belyaev began his creative flight, thanks to this amazing man. Was born in 1959.

He graduated from the Sverdlovsk art school named after Shadr.

He studied with such artists as Leonid Baranov, Sergei Grigoriev, Stanislav Krupp, Sergei Mukhin, Igor Vishnya, Alexander Shaburov, Yuri Martyushev, Alexander Sazhaev, Alexander Mitsnik, etc.

1988-chief artist of the theater-Studio "Galerka" 1987-production designer of the Sverdlovsk city youth theater (now "Volkhonka"). Since 1991 he began active creative and exhibition activities.

Several solos and joint exhibitions in galleries of Yekaterinburg. With the art group "Doctor Shana", the gallery "March" (Black and white, "the Last cat", etc.), in the gallery "window" ("Journey of the snail", "chasing the clouds", "Belyaev - lonely sail"), in the gallery "Pushkin, 12", "aegis" and the creative workshop of Sergei Shitikov. Participation in the creation of the gallery of modern art, l, as well as the gallery " Yekaterinburg "(the first exhibition in the building of the House of peace and friendship). Since 1996 his works have been exhibited abroad: in London, Chile, a traveling exhibition in Italy, UAE.