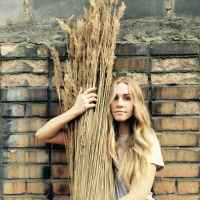 Artist Elizabeth Borodinova
About the artist
Painter and graphic artist. Born in Moscow in 1989, in 2013 she graduated from the art faculty of VGIK-Department of costume film and television, received a diploma with honors. At the moment, the artist is actively involved in exhibitions and auctions, multimedia projects. Her works are in private collections in Russia and abroad.

Since 2017, Elizabeth has been included in the TOP 100 young Russian artists (according to the analytical project IN-ART).

Borodinova's Work can be attributed to such a direction in art as "mystical realism". The artistic language of the paintings is very diverse, but the technique and composition of the author are recognizable. The theme of untouched nature can be traced in the works of Borodinova throughout her career, where decoration and graphic coexist with transparent painting, full of lightness and air. The use of different textures in one painting-gold, pasty oil painting, and unpolished canvas engages the viewer and makes each work an almost tangible medium, inviting to plunge into its mystical space. The open composition immerses the viewer in a state of ringing silence and comprehensive peace, inviting him to peer into the otherworldly, unsteady, to break away from reality and enjoy the moment out of time.