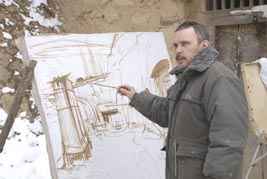 Artist Dmitry Vasiliev
About the artist
Painter, laureate of diplomas of international and Russian exhibitions.

Dmitry was born in 1972 in Kamensk-Uralsky, Sverdlovsk region. In 1991 he graduated from the painting and pedagogical Department of the Sverdlovsk art school named after Shadr. In 2000 - graduated from the Academy of arts, workshop of Professor Sokolov V. V.

Senior lecturer of the General Department of a painting at the St. Petersburg Academy of Art and Industry named after Stieglitz.

Paintings by Dmitry Vasiliev are held in private collections in Germany, France, the USA, China, New Zealand. A large collection of paintings was purchased for the private collection of the Duke of Saxony Prince Michael.