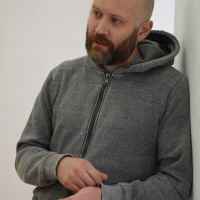 Artist Ilia Bouslakov
About the artist
Artist from Vologda. Produces pieces of experimental graphic arts, photography, tattoos, creates art objects.
The project 'Numbers as Art,' 0123456789ART, explores the new aesthetic of the world of numbers.

The artist's works are found in private collections in Russia, Germany, USA and France, as well as in the collection of the Museum of Nonconformist Art, Saint-Petersburg.


Exhibitions:

- Space Place gallery. Personal exhibition. Nizhny Tagil, 2021

- Gallery 2.04 (Art Center "Pushkinskaya-10"). Personal exhibition. Saint Petersburg, 2020

- gallery Here on Taganka. Curated by Andrey Bartenev. Moscow, 2020

- SPAR Art Residence, Saint-Petersburg, 2020.