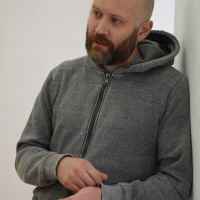 Artist Ilia Bouslakov
About the artist
Artist from Vologda. Produces pieces of experimental graphic arts, photography, tattoos, creates art objects.
The project 'Numbers as Art,' 0123456789ART, explores the new aesthetic of the world of numbers.

The artist's works are found in private collections in Russia, Germany, USA and France, as well as in the collection of the Museum of Nonconformist Art, Saint-Petersburg.


Exhibitions:

- Space Place gallery. Personal exhibition. Nizhny Tagil, 2021

- Gallery 2.04 (Art Center "Pushkinskaya-10"). Personal exhibition. Saint Petersburg, 2020

- gallery Here on Taganka. Curated by Andrey Bartenev. Moscow, 2020

- SPAR Art Residence, Saint-Petersburg, 2020.
Art critic's comment
In his art-project "Numerals as Art", 0123456789ART, graphic artist from Vologda Ilya Buslakov opens a new, aesthetic way of perceiving the world of figures, which is, perhaps, used to be familiar only to mathematicians deeply fascinated by their subject. By depicting numerals (1, 2, 3, etc.) in his works, the artist shows that each of them is unique and finds various forms to express it. His unconventional approach changes the common concept of numerals.

The figures in compositions of Ilya Buslakov acquire individuality and self-sufficiency, they turn into works of art. Compositions from the series 1-400 of the project "Numerals as Art" depict encrypted numerals. The author creates works by hand, on paper or on canvas without using computer graphics. Ilya Buslakov is also a photographer, he creates art objects and tattoos. Each of the artworks exist in singular exemplar.