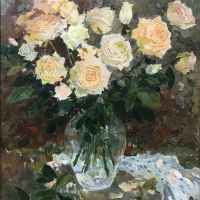 Artist Lyudmila Balandina
About the artist
Lyudmila was born in 1967 in Saratov. At the age of 19, she went to Leningrad and entered the Institute of painting, sculpture, and architecture. I. E. Repin. In 1994, she successfully graduated from the Institute in the workshop of Prof. P. T. Fomin. In 1994 she became a member of the Union of Artists of Russia. Paintings by Lyudmila Balandina are made at a high professional level.

Lyudmila is a participant in numerous Russian and foreign exhibitions. Her works are held in private collections in Russia, Finland, Sweden, Germany, and the USA.

Exhibitions:
1994 - an exhibition of diploma works. Moscow.
1995-2008 - Permanent participant of autumn-spring exhibitions of the CX. SPb.
1996 - The Marienlyst Gallery (Sweden, Gothenburg).
1997 - "the Link since the" TSVZ. S-Pb.
1997-2000 - Exhibitions of St. Petersburg artists in Germany. (Hamburg, Eutin, Munchen).
1999 - Exhibition "Russian province". S-Pb. Nekrasov Museum.
2000-2008 - Exhibitions in galleries of Chicago, New York.
2004 - CHA. Moscow.
2008 - anniversary exhibition "75 years of the Union of Artists". SPb.
2009 - Flowers and the city. SPb. The book and graphics center.
2010 - a Harmony of 21st century.SPb.Union of artists.
2011 - the Man and the city. Moscow.
2011 - Harmony 21st century. Petersburg Union of artists
2012 - Autumn exhibition with Petersburg Union of Artists. St. Petersburg.