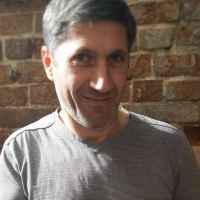 Artist Vahan Margaryan
About the artist
Armenian painter, sculptor, ceramist. In Vahan`s works, plastic volumetric ceramics framed in natural wood immerses you in a fabulous story. Ural landscapes and fairy-tale characters: hares and bears, churches, and small houses harmoniously joined the artist's work.

From 1999 to 2001 the artist lived and worked in Bulgaria. At the same time, he continued his studies at the Studio of the Bulgarian artist Hristo Minchev and studied Bulgarian ceramics and painting. During this time he opened exhibitions in Sofia, Sliven, Nova Zagora, and Plovdiv. And in 2001, the sculpture "Balkan Syndrome" was awarded a letter of thanks on behalf of the President of Bulgaria. From 2001 to 2004 he lived and worked in Armenia, where he participated in General exhibitions.

Since 2004 Vahan has been living in Yekaterinburg.

Artist`s works are held in museums and private collections in many countries of the world.