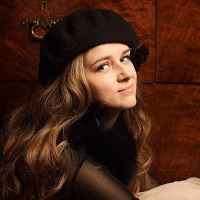 Artist Maria Yashina
About the artist
Was born in 1987 in Nizhny Novgorod.
In 2007 she graduated from the Nizhny Novgorod Art School.
Since 2005 she has been a regular participant in all-Russian, regional exhibitions.
In 2008 she entered the St. Petersburg Academy of Arts named after Repin.
Since 2010 she studied at the monumental workshop under the leadership of Alexander Kirovich Bystrov.

Marya had an open-air practice in Finland in 2011, and in China in 2013.
In 2014, she graduated with honors from the Academy of Arts named after Repin.
Since 2015, Marya is a member of the St. Petersburg Union of Artists. Permanent participant in the spring, autumn, and thematic exhibitions of the Union. artists, youth competitions, and projects.
Laureate of the project "Youth of St. Petersburg" in the nomination "painting" in 2015, 2016, 2017, and 2018.
2016 - a participant in the All-Russian art exhibition "Youth of Russia 2016". Central House of Artists. Moscow
2016 - participated in the international art biennial of the SCO countries "Drawing the Silk Road" and the 6th international forum "Drawing Lake Sihu".
2016 - was awarded a diploma from the All-Russian youth competition "A muse must work!" in the nomination "Art-Hope".
2017 - personal exhibition "Fragments of life" in the gallery "Academic Classics", St. Petersburg.
2018 - a participant in the program cycle of the "Russian Artists" project on the Chinese state educational television. Beijing.
2019 - participated in the Plein Air and masterclasses as part of the Creative Schools.
Since 2020 Marya works as a lecturer at the Faculty of Arts, St. Petersburg State University.