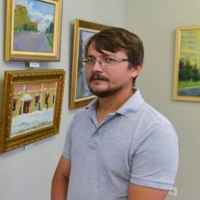 Artist Nikolay Petrov
About the artist
Nikolay Petrov was born in 1980. In 1999 he graduated from the graphic arts department of the Leninogorsk music and art pedagogical school, and in 2003 - the graphic arts department of the Bashkir State University. Petrov is a member of the Union of Artists of Russia and the Republic of Tatarstan. The painter's works combine truthfulness, naturalness, lightness.

Petrov is one of the artists who paint his sketches in the open air. Today the artist works on paintings of nature of different content: village motifs beloved from childhood, views of cities where he lived for years, and an industrial landscape associated with oil production in the south-east of the republic. He enthusiastically works on the city landscape, creating a vivid image of a large oil center - the city of Almetyevsk.

Nikolay Petrov concentrates on the method of impressionistic etude to preserve the initial impression and vivid perception of the motive in the work. Petrov is in love with Almetyevsk. In his city landscapes, the viewer sees not only wide streets and squares, but the corners of courtyards, even architectural elements. Sculptural monuments, historical buildings coexist with new buildings, with busy traffic and pedestrian traffic. The artist seeks to convey in his works the rhythm of life in the oil capital of Tatarstan.