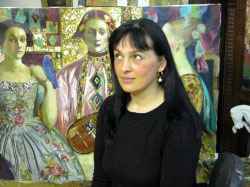 Artist Olga Suvorova
Diploma of Saint-Petersburg Academy of Arts named after Repin (painting and monumental art, workshop of Professor A.A. Mylnikov) - 1998
Diploma of Saint-Petersburg Academy of Arts named after Repin (painting and monumental art, workshop of Professor A.A. Mylnikov) - 1998
About the artist
Born in Saint-Petersburg in 1966 into a family of talented and respected artists. Olga is the representative of the dynasty of Suvorov artists, which includes the three generations of St Petersburg artists: Igor Suvorov, Natalia, and Olga's daughter - Ekaterina. Olga Suvorova's father, Igor Suvorov, was the Honored Artist of the RSFSR.

In 1998 Olga Suvorova graduated from Saint-Petersburg Academy of Arts named after Ilya Repin. She studied painting techniques and monumental composition at the studio of the famous artist Andrei Mylnikov (1919–2012).

Although Olga Suvorova had influential parents and teachers, it never stopped the artist from developing her original style – historical costume portraits of personages in the style of various periods, such as the Renaissance, Baroque and Rococo. Her work is reminiscent of the popular in the 20th century Saint Petersburg artistic movement 'Mir Iskusstva' ('The World of Arts') which was inspired with the art and culture of the 18th century.

The artist constantly participates in exhibitions in Russia and abroad. Her works are found in private collections in England, America, Germany, China, Russia and other countries.


Main exhibitions:

1990 - Hamburg, Germany.

1990 - an exhibition at the Saint-Petersburg Academy of Arts named after Ilya Repin.

1992 - 2007 – the annual Chelsea Art Fair, London.

1992-2013 – the annual spring and autumn exhibitions at the Artist's Union in Saint Petersburg.

1994 – an exhibition at The Alberti Gallery in London.

1994-1995 - London Contemporary Art Fair at the Business Design Center, London.

1996 - personal exhibition "BAT", England.

2003-2013 - Annual Fair Holland Group Exhibitions, the Netherlands.
2005 - participated in the exhibition of The Royal Society of Portrait Painters, London.

2007 - group exhibition 'Polyrealism' at the Brodsky Museum, Saint Petersburg.

2009 - exhibition at the Winter Palace, Saint Petersburg.

2014 - group exhibition 'Dreams and Metaphors' at the gallery ARTSEVERINA, Rimini, Italy.
Art critic's comment
A closer look at the paintings by Olga Suvorova reveals the artist's in-depth knowledge of various historical periods and Revival styles. In search for inspiration, Olga Suvorova turns to artistic tendencies of the past and demonstrates profound understanding of Byzantine and Renaissance art, and admiration for such styles as Russian Baroque and Rococo. Moreover, some of her paintings may feature various tendencies, such as those found in the pieces by seventeenth-century Dutch and Flemish artists, the Pre-Raphaelites, the Symbolist artists, and the Russian artistic movement Mir Iskusstva (or the World of Art). Intricately entwined and creatively rethought, all these aspects form Olga Suvorova's signature style.

The sophisticated composition with beautiful flowers and birds creates an atmosphere of a dream world, whereas the realistic methods of modelling recall seventeenth-century Dutch and Flemish still-life paintings. In her artworks, Olga Suvorova perceives birds and flowers not as superficial decorative motifs, but as symbols and creations of the Supreme Mind.

The softness of consonant tones, the attention to details, the elegance of characters and the perfection of technical skill make Olga Suvorova's artworks timeless.