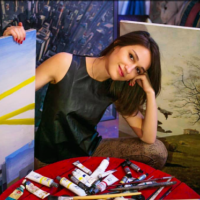 Artist Sasha Sokolova
About the artist
Sasha Sokolova
— Russian modern artist. Lives and works between Moscow and Barcelona. Made personal exhibitions in Russia, Poland, and Germany.
Exhibitions:
2019: July, 9 - August, 7 - personal exhibition "Splash" in Artis Gallery (Moscow Contemporary Art Center Winzavod). Bright artworks made by Sasha embodied fantasies-memories about ideal summer. Organizers compared the artist`s style with the patience of Los Angeles elite houses of 1960-1970-s, which is characteristic of the works of David Hockney. However, Sasha refers to her childhood memories of a small swimming pool on a dacha in the Moscow region, which united all family members. In her interpretation, a swimming pool is a place of power and union, and the main symbol of it is a splash.
2019: February, 2 - March, 3 - group exhibition Big City Life of Artis Gallery in the Red Workshop of Winzavod. Sasha Sokolova showed series of paintings about Barcelona.
2018: May, 8 - 31 - presentation of the special project "364 days" in Pop Up Museum in Moscow.
2017: November, 11 - December, 9 - personal exhibition Momentos in Galerie Vinogradov Berlin in Germany.
2017: October, 13 - November, 5 - Conversations in Sztuka Wyboru Galeria in Gdańsk (Poland).
In 2017, Sasha Sokolova became the only artist from Russia, who took part in making the movie "Loving Vincent". It was the first animated film in the world, which was fully drawn with oil on canvas. More than 60 000 paintings were made for this film.