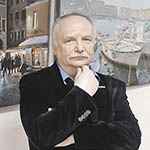 Artist Sergey Ulyanovskiy
About the artist
Sergey Ulyanovskiy was born in 1956 in Biysk. He always drew, and already in preschool age he received the nickname "the artist". He painted at home and at school, in the Art Studio of the city house of pioneers, and in the army when called to service.

Since 1977 Sergey lives in Moscow. For 6 years - from 1977 to 1983 - he studied in the Studio of A. E. Sukhinin - a remarkable Moscow artist who combined in his work the achievements of the St. Petersburg and Moscow schools of painting, a student of academicians N. M. Romadin, P. N. Krylov, A. M. Gritsay, N. N. Zhukov, A. A. Deineka, portraitist K. D. Kitaika. His teacher took a course in landscape and portrait painting, composition, color studies, and other special disciplines. Since 1980 he participated in group exhibitions first in Moscow and then abroad: in Bahrain, Sweden, in the Embassy of Mexico in Moscow, in the Federal Communications Agency, the Museum-reserve "Muranovo", a permanent participant in the exhibitions of JSC "Marka". Solo exhibitions were held in 1989 in DC AZLK and in 2011 in the Embassy of Croatia in Moscow, in 2013 in ITC "Marka". He painted hundreds of paintings, most of which are in private collections in Russia, France, the USA, Turkey, Sweden, Hong Kong, Malta, Germany.

Since 2016 - a member of the Union of Artists of Russia. He was awarded diplomas and a medal of the Union of Artists of Russia.

Actively engaged in painting. A representative of the Russian realistic school. He paints landscapes, portraits, still lifes. Constantly travels on sketches not only in many places in Russia but also abroad: in Venice, Croatia, Liechtenstein, etc. under the leadership of Sergei Ulyanovsk, to improve the skills, in the publishing house "Mark" works school - Studio of painting.