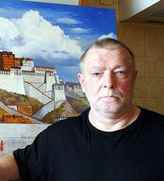 Artist Vladimir Tyutyuev
About the artist
Painter, member of the Union of artists since 2010.

In 1976 Vladimir graduated from the 2-year course at People's University of Arts (Moscow). From 1978 to 1981 he studied at the Sverdlovsk art school named after Shadr.

In the painting of the master, two key themes can be distinguished. As a Ural artist, the author devotes most of his work to the nature and life of the Urals. Tibetan series of works, where "Roerich" mountains with snow-capped peaks, blue lakes, imperturbable yaks, monks in saffron-Burgundy robes, Buddhist stupas, and other views of the once "forbidden Kingdom" can be recognized.

The artist is a regular participant in the city, regional and international exhibitions, and art projects. His works are in private collections in Russia and abroad.