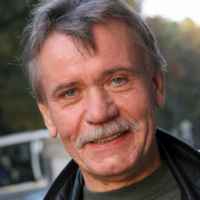 Artist Vadim Kurov
About the artist
Vadim Kurov was born in 1947 in Kazan. Graduated from the Kazan Art School and the Art and Industrial School named after V.I. V. M. Mukhina. Member of the Union of Artists of Russia and the International Association of Artists. Multiple exhibitor of Russian and foreign exhibitions. Lives and works in St. Petersburg.

Works are held in the collections of the Museum of Theatrical and Musical Art of St. Petersburg, the Ministry of Culture of the Russian Federation, the Directorate of Museums of St. Petersburg, the State Museum of Fine Arts of Kazan (Tatarstan), the Georges Pompidou Museum (Paris, France), the Los Angeles Cultural Center (California, USA) ), Museum of Modern Art (Miami, USA), Museum of Soviet and Russian Art (Shanghai, China).

Exhibitions: Drouot-Richelieu, Paris, France (1989-1990); Nordland, Norway (1991); Montreal, Canada (1992): Los Angeles, USA (1999); Miami, USA (2000); Santa Monica, USA (2003); Helsinki, Finland (1994-1995); Bremen, Germany (1995, 1996).