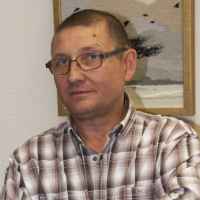 Artist Vyacheslav Petryaev
About the artist
Born in Perm in 1961.

Graduated from the Perm Art School No. 1 (under the direction of VN Abusov).

Studied at the ART-S studio with M.G. Pavlyukevich and V.V. Selivanov.

Member of the Artists' Union of Russia since 2015.

The artist represents the tradition of Russian realist painting and works in the technique of oil painting. Vyacheslav Petryaev mainly produces urban and lyrical landscapes, but he also works in the genres of still-life and portrait.
Art critic's comment
Vyacheslav Petryaev develops the tradition of Russian realist landscape painting and dedicates much time working plein air. The artist carefully studies nature and, as a result, not only he achieves demonstrating picturesque landscape of the Urals, but he also shows its calmness and peacefulness. Rich textures and subtle colour solutions peculiar to Petryaev's paintings create the atmosphere of living and ever-changing nature.

The artist's urban and rural landscapes are notable for their impressive compositional solutions. They direct the viewer into the nostalgic world of the old town of Perm with its charming old mansions, cozy courtyards and wooden houses. Harmonious combinations of colours in these paintings correspond to the lyrical state of nature and create cheerful mood.

Industrial landscape is another direction of the artist's creative search. It allows revealing more about the history of Perm, the place where plants and industry have long flourished. In these works the artist uses another colour scheme, but still remains a skillful colourist, opening his creative potential in a different way.