Dreams of Beauty: the Art of Alla Lipatova and Nikolai Reznichenko
24.01.2021
Dreams of Beauty: the Art of Alla Lipatova and Nikolai Reznichenko
The paintings of the artists Nikolai Reznichenko and Alla Lipatova are equally characterised by harmony and integrity of the inner content. This is largely determined by the common views of artists, their ability to maintain creative dialogue and to understand each other perfectly. These features manifest themselves in the artists' works through the commonality of themes, motives and images. At the same time, having lived together as a couple for more than 30 years, Nikolay Reznichenko and Alla Lipatova continue to develop as original authors. The uniqueness of the creative path of each of the artists combines with the spiritual harmony of their duet.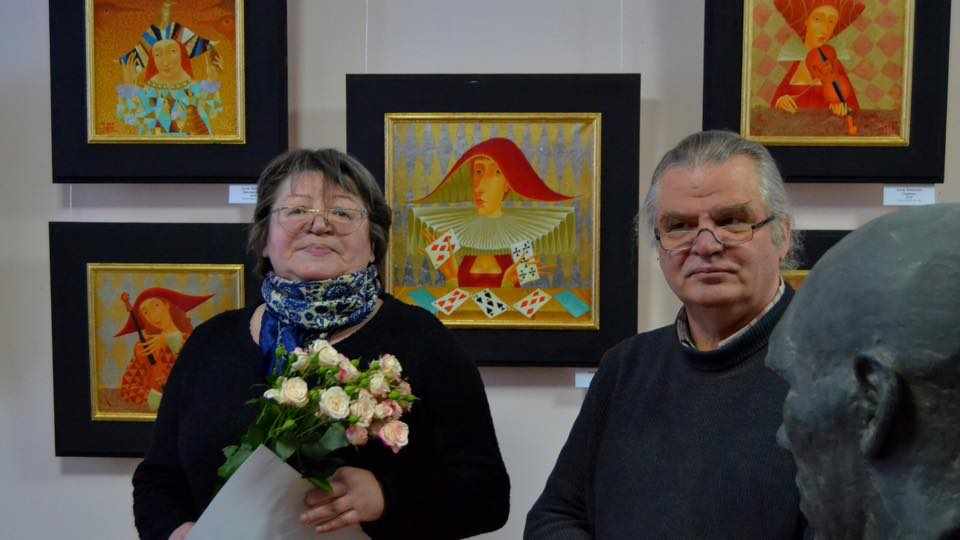 Popular in St Petersburg, Nikolai Reznichenko and Alla Lipatova have presented their first exhibition in Ekaterinburg in 2020-2021. The paintings presented at the exhibition were produced mainly in 2018-2020, they are notable for new compositional searches and techniques of artistic expression. For example, in his series dedicated to circus, Nikolai Reznichenko experiments with methods of depicting flexible figures of acrobats and dancers, the artist aims to convey both the movement of body and soul. The architectural motifs in the works of Alla Lipatova make viewers think about the infinity of the universe, whereas the motif of the clock in her artworks is associated with the transience of time and the fragility of life.
Watch the video from the exhibition of Alla Lipatova and Nikolai Reznichenko
The unique artist's technique remains unchanged. Nikolay Reznichenko paints his works not with a brush, but with a palette knife, a special tool that visually resembles a small spatula. At the same time, the artist masterly manages to achieve the smoothness of the painted surface and the accuracy of the contours. Alla Lipatova, like her husband, works with oil paints and combines the traditional style with the complex technique of gilding, which has long been used in ancient Russian icon painting. The use of such techniques brings the air of sophistication and nobility to artworks.
Alla Lipatova does not seek to overwhelm their viewers with complex symbols and philosophical concepts. She she aims to demonstrate the elusive beauty of the universe, which she sees in architecture, music, historical costume, and still life objects. Nikolai Reznichenko in his works also focuses on romance and beauty, which, according to the artist, are often lacking in our lives. His works are laconic and filled with symbolism.
At the same time, the works of both artists do not disconnect with reality, they rather express the desire to bring light and purity to this world. The characters in their paintings live in an atmosphere of serenity and tranquility. Scenes with musicians, dancers, couples in love, theater and circus performers create an atmosphere of peace. Such subjects and characters resonate with the viewer, since everyone wants to relate to this harmonious world and become a part of it.
Photo: Vedernikova Angelina