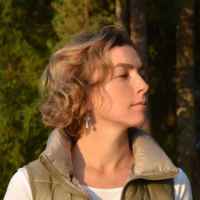 Artist Alexandra Nedzvetskaya
About the artist
Born in St. Petersburg.
In 1999 finished the Academic lyceum at the Academy of Arts.
In 2006 finished the Academy of Arts, faculty of painting, portrait painting workshop of prof. V.V. Sokolov.
2006 to 2009 - postgraduate studies at the Department of Painting.
Since 2007 - a member of the Union of Artists of Russia.
State scholarship holder of the Ministry of Culture
RF 2012.

Winner of the Muses of St. Petersburg grant competition in 2008
Laureate of the First International Christmas Ballet Festival, art competition "Nutcracker" - II degree diploma, 2006
Diploma-recipient of the International Forum "Youth and Society - Meeting Each Other", LENEXPO, St. Petersburg, 2007
Laureate of the Russian competition "Modern Academic drawing" - Diploma of the 1st degree, 2009
Diploma-recipient of the exhibition "Young Artists of Russia" Moscow, Central House of Artists, 2010.
Member of the Youth Salon. Moscow, Central House of Artists, 2013.
Participant of the Russian exhibition "Russia - XII" Moscow, Central House of Artists, 2014.
2015 - Winner of the competition "Plein air on large formats", Furge, France (Forges, Haute-Normandie, France).
2014 - permanent participant in exhibitions in France with the support of the Russian-French association.

Permanent participant in annual exhibitions of the St. Petersburg Union of Artists. Permanent participant of collective exhibitions in Russia and
abroad. Works are in private collections in Europe and
America.