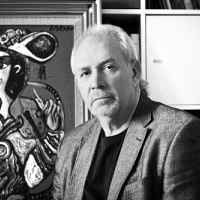 Artist Andrey Eletskiy
About the artist
Member of the Creative Union of Artists of Russia. Born in 1952 (Revda, Sverdlovsk region).
Professional musician and artist. Professionally, he began painting in adulthood, during his immigration to Europe. He lived in Venice and France for more than 10 years. He currently lives and works in Yekaterinburg. He is a participant in international music festivals, competitions, concerts, art exhibitions in Russia and abroad. According to the results of the academic traveling exhibition "Ural" he was awarded a diploma of the Russian Academy of Arts.

Art critic's comment
The range of techniques is unusually wide, from "Fauvism" to abstract expressionism. "Musical painting" or "visual music" - this is how an artist defines his work. His colors are frank, strokes are clean and honest, the plots are familiar and close. No wonder Misha Brusilovsky said about him: "Andrei has mutual love - he loves paints, and paints love him!"
"Yeletsky's view of the surrounding reality is not just a panoramic view of an enlightened European. The important thing is that this European is a musician and improviser. Through music, the dynamic fundamental principle of the world is revealed to him. And the gift of improvisation allows you to instantly grasp the variability of the states of being, "these are the words of Nikolai Timofeev, academician of RIA, professor, president of the Scientific and Cultural Timofeev Foundation.
The topics covered by the artist are comprehensive. These are impressions of trips, meetings with people, books read, favorite music. The works convey the emotional state of the artist, so the picture becomes a unique improvisation on canvas. Andrei Yeletsky himself says this: "I would like to become an artist of emotions, not to deny the modern world, but to accept it as it really is."
Each artist has his own secret, to which he remains faithful to the end. Such an inexplicable mystery filled the work of A. Yeletsky. The more you look at the paintings, the more you feel his world as a space filled with special energy. The nature of the work of a free artist is the desire to say his word, to share his discoveries, impressions.
In the works of Andrei Yeletsky, the spirit of the post-Soviet era is obvious - a time of tremendous reappraisals, great desires, and general excess. Due to the combination of features and techniques of different styles, national schools and creative methods, Yeletsky is surprising in that he remains himself, only mentioning his idols. The incompleteness of lines and the riot of colorful masses, sometimes squeezed out of tubes and frozen in complex weaves, in the paintings convinces the artist of the new era.