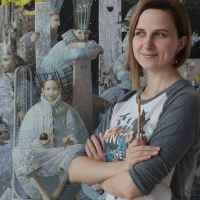 Artist Anna Berezovskaya
Fabriano Watercolour Biennale, Italy - Jury Prize - 2022.
Fabriano Watercolour Biennale, Italy - Jury Prize - 2022.
About the artist
Born in 1986, in Moscow region.
The artist began her education at the private art studio in 2000.
2001 – started studying at the Abramtsevo College of Art and Industry. 2005 – member of the Creative Union of Russian Artists.
The artist lives and works in Moscow.

Anna Berezovskaya's artworks are highly valued among collectors and investors in Russia, USA, Europe and Asia.


Main exhibitions:

2006 – personal exhibition, Central House of Artists

2007 – exhibition at Umbra Art Gallery, Seattle, USA

2008 – ART & DECO exhibition, New Manege, Russia

2010 – personal exhibition, Red Sea Gallery, Singapore

2012 – GAZE Gallery, Berlin, Germany

2014 – Art Expo Malaysia

2015 – Art Taipei - REDSEA Gallery

2017 – Solo Exhibition, Gin Huang Gallery, Taipei, Taiwan

2018 – Solo Exhibition, REDSEA Gallery, Singapore
Art critic's comment
Anna Berezovskaya is one of the most commercially successful young Russian artists, whose artworks are notable due to the distinct style and skillful technique of execution. She uses traditional technology for oil paintings and makes pieces of graphic art by applying watercolour, acrylic paint, charcoal, sanguine, and sepia.

Although the artist defines her style as 'poetical realism,' her paintings, in fact, combine a variety of stylistic features, which are commonly associated with particular artistic movements, such as Naïve art, Primitivism, Surrealism. Perhaps, this unusual combination is exactly what makes Anna Berezovskaya's artworks so special.

The artist uses metaphorical language in her paintings as a means to express her creative ideas. This makes viewers to examine her artworks and explore every detail. Each of her paintings is an individual piece, which tells its own story with a deep meaning, but a unified philosophical field created by recurring symbols in her work forms the sense of an established artistic conception and unity.