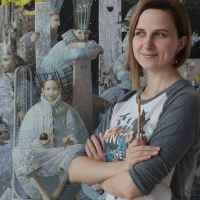 Anna Berezovskaya
About the artist
Born in the Moscow region, Anna studied at the Abramtsevo Art and Industrial College. Since 2005, the artist is a member of the Creative Union of Artists of Russia.

Anna`s works are one of a kind and easily recognizable by her unique style & technical mastery. Through a signature style which she refers to as Poetic Realism, Berezovksya brings together techniques unique to realism, abstraction, and surrealism.

The artist's exhibitions took place all over the world - in the USA, Holland, Hong Kong, Singapore, Indonesia, Korea, Berlin, Russia. Anna Berezovskaya's works are in great demand among serious collectors and investors in Russia, the USA, Europe, and Asia.