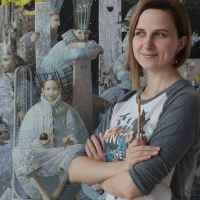 Artist Anna Berezovskaya
About the artist
Born in 1986, in Moscow region.
The artist began her education at the private art studio in 2000.
2001 – started studying at the Abramtsevo College of Art and Industry. 2005 – member of the Creative Union of Russian Artists.
The artist lives and works in Moscow.

Anna Berezovskaya's artworks are highly valued among collectors and investors in Russia, USA, Europe and Asia.


Main exhibitions:

2006 – personal exhibition, Central House of Artists

2007 – exhibition at Umbra Art Gallery, Seattle, USA

2008 – ART & DECO exhibition, New Manege, Russia

2010 – personal exhibition, Red Sea Gallery, Singapore

2012 – GAZE Gallery, Berlin, Germany

2014 – Art Expo Malaysia

2015 – Art Taipei - REDSEA Gallery

2017 – Solo Exhibition, Gin Huang Gallery, Taipei, Taiwan

2018 – Solo Exhibition, REDSEA Gallery, Singapore
Art critic's comment
Anna Berezovskaya creates both paintings and graphic artworks. Her pieces are recognisable due to the specific style and high level of technical skill. By combining the features of realism, abstract art and surrealism, Anna Berezovskaya has developed her own style, which she refers to as 'poetic realism.'

The artist is inspired by Russian literature and culture, she explores universal topics in her paintings. The subjects of her works go beyond time and space, finding emotional response from the viewers.

Anna Berezovskaya's paintings are filled with symbols. For example, the motif of locks and keys is often found in her compositions and represents mysteries to be solved and discoveries to be made. The motif of safety pins in the artist's paintings goes back to the old Russian superstition, according to which, wearing such an accessory protects wards off evil. Artistic world of Anna Berezovskaya is filled with symbolism, and each painting tells a story with a meaning. For this reason viewers are often interested in examining these artworks, and in studying every detail closely.