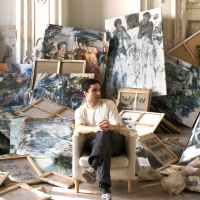 Artist Grigorii Pavlychev
About the artist

Born in the city of Nizhnevartovsk in 1986, Grigory Pavlychev moved to St. Petersburg, where he graduated from the Faculty of Arts of St. Petersburg State University in 2009. Since 2015, he is a member of the St. Petersburg Union of Artists (painting section).
Art critic's comment
Grigory Pavlychev is a contemporary artist who works at the intersection of abstraction and figurative art. When you first glance at his work, you may find yourself gazing into an abstract composition or exploring the dynamics and shapes of human figures. The main task of an artist is to preserve the dynamics and color movements inside and outside the bodies.