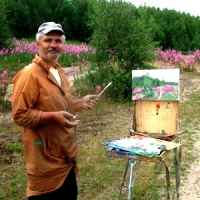 Artist Nikolay Glukhov
About the artist
Nikolay Glukhov was born in 1963 in Krasnoyarsk region.
1978–1982 – studying in Krasnoyarsk Art College named after V. I. Surikov.
1993 - graduated from the Academy of Arts (faculty of easel graphics).
Since 1997 – a member of St. Petersburg Union of Artists.

A participant in the exhibitions in Russia, England, Germany, Spain, Finland, France, China.

Personal Exhibitions:
1998, 2013 – Saint Petersburg;
2003 – Asheville, North Carolina, the USA.