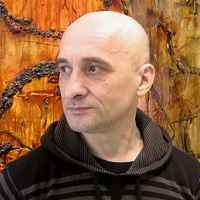 Artist Stanislav Krupp
Jury Prize at the International Exhibition Art Revolution Taipei 2014
Jury Prize at the International Exhibition Art Revolution Taipei 2014
About the artist
Born in 1959 in Kamensk-Uralsky, Sverdlovsk Region.
1984 - graduated from the Sverdlovsk Art College.
Since 1979, the artist participates in numerous exhibitions in Russia and abroad.

The paintings of Stanislav Krupp demonstrate affinities to the artworks of the Silver Age. In addition, the artist is also inspired by the masters of the European Middle Ages and the Northern Renaissance. In his pieces, Stanislav Krupp applies the ideas of symbolism, as well as the aesthetics of Russian, Polish and Czech Art Nouveau, whereas some paintings bear the influences of the art movement the Vienna Secession.

More than 400 artworks of the artist are found in private collections in Russia, Germany, Sweden, Israel, England, Greece, Spain and the USA.

Stanislav Krupp collaborates with galleries in Russia, the Czech Republic and Germany.
He also participated in film projects as a production designer and author of visual concepts for films and TV-series:
- "Testament of the Night", TV-series, film-director A. Fedorchenko. 2008 (visual concept);
- Oatmeal, film-director A. Fedorchenko. 2010 (visual concept);
– "Chrono-eye", the experimental international film trilogy "The 4th Dimension",
dir. A. Fedorchenko. 2011 (art director).
Art critic's comment
Female images are painted by Stanislav Krupp in all their grace and beauty. The artist aims revealing
the versatility of female characters and turns to literature, legends and novels in his search for inspiration. For his paintings Stanislav Krupp studies history, fairy tales, and learns about various folklore characters. The artist is highly inspired by Art Nouveau and Symbolism, as well as by the pieces produced by medieval and Renaissance masters.

The style and aesthetics of the paintings by Stanislav Krupp would rather suggest that their author is a painter with European background and is not from a small Russian town of Kamensk-Uralsky. Viewers get this impression due to to the erudition of the artist and his deep knowledge of European history and artistic tradition. Indeed, Stanislav Krupp demonstrates a deep
understanding of European aesthetic values. The artist has devoted ample attention to studying the style and artistic techniques of the brightest representatives of various artistic movements, which have originated in European art of the late 19th and early 20th centuries.

Female images plays the key role in the artist's creative world, along with the active use of colour and expressive compositions. Women in the paintings of Stanislav Krupp are often portrayed as the personifications of nature, personages of legends or fairy tales.