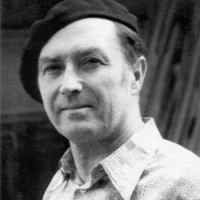 Artist Sergei Volochaev
About the artist
Sergei is a veteran of the Great Patriotic War. Was awarded the order of the Patriotic War and 12 medals.

Was born in 1926 on the Kuban. In 1941 entered the Krasnodar special school of the Air force. Due to the occupation of Krasnodar by the Germans, studies were interrupted.

In 1943-1945 - the participant of fights on the Kalinin front in the 5th cavalry division to them. Kotovsky. In 1950 was demobilized from The Soviet army and in the same year entered the Sverdlovsk art school, three years later transferred to the Krasnodar art school, which he graduated with honors.

In 1955 Sergei entered the Moscow art Institute named after V. I. Surikov. Since 1959 - worked in the Art Fund of the RSFSR. Since 1959 -permanent participant in significant exhibitions. Since 1976 - a member of the Union of artists of the USSR.

Artworks are held in museums and private collections in Russia, the Czech Republic, Poland, Slovakia, Italy, and Germany.