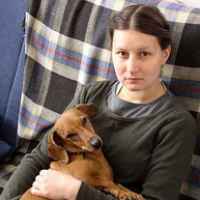 Artist Agatha Belaya
Diploma of the Institute of Painting, Sculpture and Architecture named after Repin (Faculty of Painting, studio of Professor A. A. Mylnikov) - 2001
Diploma of the Institute of Painting, Sculpture and Architecture named after Repin (Faculty of Painting, studio of Professor A. A. Mylnikov) - 2001
About the artist
In 2001 Belaya Agata graduated from the Institute of painting, sculpture, and architecture named after I. E. Repin (faculty of painting, workshop of Professor A. A. Mylnikov).
In 2001-2004 she worked in the creative workshop of A. A. Mylnikov. She took part in the reconstruction of the Cathedral of Christ the Savior in Moscow. She has grants from the Academy of arts, took third place in the second all-Russian competition of young artists named after PM Tretyakov.
In 2002 she was awarded a diploma of the contest "Muses of St. Petersburg".
Since 2003 - a member of the St. Petersburg Union of artists. The artist's works are kept in museums and private collections in Russia and abroad.
Art critic's comment
The painting of Agafya Belaya is symbolic, she praises the Russian people and the Russian land. The concept of "painting" for the artist is an attempt to reconcile the material and the mystical. To contemplate touching sensuality in everyday things, be it the movement of the hands, the rotation of the head, or the play of shadows - for Agafya Belaya, it is more than a routine. Her observations find their expression on canvas, and the latter, in turn, are rightfully exhibited in world-famous galleries and find themselves in collectors' homes.