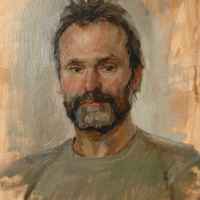 Artist Alexey Efremov
Sverdlovsk Region Governor's Award
Laureate of the award of the head of the Yekaterinburg Metropolis in the field of culture and art
Letter of thanks from the Ministry of Culture of the Sverdlovsk Region
Diploma of the Union of Artists of Russia
Sverdlovsk Region Governor's Award
Laureate of the award of the head of the Yekaterinburg Metropolis in the field of culture and art
Letter of thanks from the Ministry of Culture of the Sverdlovsk Region
Diploma of the Union of Artists of Russia
About the artist
Painter, graphic artist, laureate of the Governor of the Sverdlovsk Region Prize for 2010.

Alexey Efremov was born in 1963 in Sverdlovsk.

In 1983 he graduated from the Painting and Pedagogical Department of the Sverdlovsk Art School.
1991 - Department of Art History, Ural State University.
Since 1991 he has been engaged in museum design, interior design. Prefers easel painting (landscape, portrait, still life genres) and graphics.

Master of the urban landscape, especially of old Yekaterinburg. Over the past 15 years, he has held more than 30 personal exhibitions; a constant participant in the collective city and regional art exhibitions. The artist's paintings are in private collections in Russia, Europe and the USA. A. Efremov's paintings have been published in a number of books on the art of the Urals, several series of calendars have been published, in 2008/2011/2020 personal albums of the artist's paintings by Alexei Efremov were published.
Art critic's comment
Alexey Efremov mainly works as a painter and graphic artist, he prefers the landscape genre and rarely creates portraits or still lifes. A reknown painter of cityscapes, he creates a poetic image of the city of Yekaterinburg in the past.

"My childhood, youth and adolescence were spent in the 'old Yekaterinburg', where the historic buildings resemble old portraits. I usually paint no figures in the streets, as they interfere with my history of the city. It may appear that the history of Yekaterinburg is taken out of the contemporary context, because I paint Yekaterinburg of the past, the city, where I grew up, I see it that way," says Alexey Efremov.

The artist is inspired by the beauty of villages and by the rich history of the small towns in the Urals. Not only he finds subjects for his paintings in the nature of the Urals, but he also enjoys painting landscapes of the South of Russia. The artist often creates new paintings while travelling in Russia and foreign countries (Europe, Asia, America, Mexico). Regardless of the chosen subject and the place captured, Alexey Efremov's paintings are distinguished by the sense of rhythm and style. Both cityscapes and rural landscapes of Alexey Efremov are enriched with poetic beauty. They invariably present harmony and express beauty in all its manifestations. Sometimes the artist assigns a certain degree of conventionality to his pieces, allowing the viewer's imagination to complete a subject that would resonate in their heart, evoking memories from childhood or from travels.