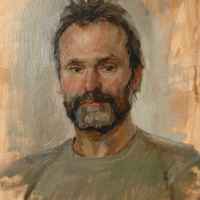 Artist Alexey Efremov
About the artist
Painter, graphic artist, laureate of the Governor of the Sverdlovsk Region Prize for 2010.

Alexey Efremov was born in 1963 in Sverdlovsk.

In 1983 he graduated from the Painting and Pedagogical Department of the Sverdlovsk Art School.
1991 - Department of Art History, Ural State University.
Since 1991 he has been engaged in museum design, interior design. Prefers easel painting (landscape, portrait, still life genres) and graphics.

Master of the urban landscape, especially of old Yekaterinburg. Over the past 15 years, he has held more than 30 personal exhibitions; a constant participant in the collective city and regional art exhibitions. The artist's paintings are in private collections in Russia, Europe and the USA. A. Efremov's paintings have been published in a number of books on the art of the Urals, several series of calendars have been published, in 2008/2011/2020 personal albums of the artist's paintings by Alexei Efremov were published.