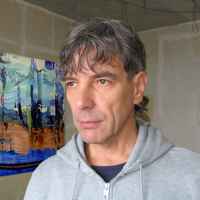 Artist Evgeny Guselnikov
About the artist
The artist Evgeny Guselnikov was born in Chelyabinsk.
In 1976 he graduated from the art school at the Chelyabinsk College of Art under the direction of A.A. Solovyova (Dresden Academy of Fine Arts).

Evgeny Guselnikov studied architecture, but he is also known as a painter, graphic artist and sculptor. He works in a broad spectre of genres, such as landscape, portrait, sill-life, animalistic genre, etc.

Since 1991, the artist participates in exhibitions and various art contests in London, New-York, Venice and Moscow. In 1997-2000 Evgeny Guselnikov worked abroad as a portrait painter. At present, he lives and works in Saint Petersburg. Evgeny Guselnikov's works are found in private collections in Russia, Czech Republic, Great Britain, Turkey, Serbia, China and on Cyprus.
Art critic's comment
The artist Evgeny Guselnikov is in constant creative search and experiments with various artistic techniques. In his paintings, Guselnikov constructs his own world enriched with meaningful symbols.

The style of his works may be considered as expressionism, because lines and colours in these pieces bear emotional connotations and reflect the artist's feelings. His brush is directed by the impulses of subconscious mind. Visual elements in Guselnikov's artworks are painted on the verge of abstraction, and the story seems to take place in another dimension.

In his works, the artist masterly combines colours to balance composition and to make it more dynamic. Symbolic images enrich Guselnikov's paintings. Some of these images are taken from daily life and may look familiar to viewers in their simplicity. However, in the context of Guselnikov's artworks these images acquire philosophical meanings. As a result, not only Guselnikov's paintings please the eye, but they also may provide subjects for discussion among the viewers. The artworks produced by Evgeny Guselnikov would add bright accents to and look fantastic in both contemporary or minimalist style interiors.