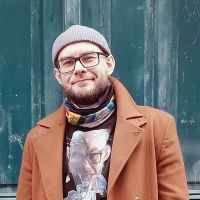 Artist Sergey Kiyanitsa
About the artist
Sergei Kiyanitsa was born in 1986 in Novosibirsk. In 2008 he graduated from the Yekaterinburg Art School named after I. I. D. Shadr, painting department. In the same year, he entered the Academy of Arts named after I.E. Repin, but a specific view of art interrupted his studies. Then he lived in Europe, studied contemporary Western art, and honed his pictorial language. Founder of the creative association "MAF" (morality, awareness, freedom). He paints very emotionally, in an expressive technique, with a wide rhythmic stroke, prefers large canvases, and is prone to visual distortions of reality.

The artist's works are held in private collections in Russia and abroad: Czech Republic, Germany, France, China, USA.



Art critic's comment
Sergei Kiyanitsa about his Parisian sketches:

"When I flew to Paris, I was already planning to go to the open air at least two or three times. After all, this is Paris! To visit the Mecca of artists and not to go to plein air - what could be more stupid?! During my first plein air, I realized: you need to dive deeply into this city in order to write really good, heartfelt works. I had to stay in Paris for almost three weeks longer than planned. But the result was worth it. A series of Parisian sketches presented at the BON COURAGE exhibition in RakovGallery is an emotional story about a city that I saw for the first time and remained in my memory forever. warm feelings for Paris translated into the language of painting".