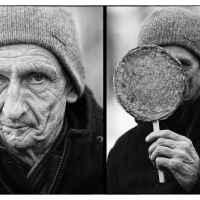 Artist Sergei Laushkin
II International Biennale of Graphic Arts "White InterNights BIN 2006", Saint-Petersburg - Laureate of the V. A. Vetrogonsky Prize
I Prize at the Festival of Park Marble Sculpture, Yekaterinburg - 2008
Awarded First Prizes at the International Festival "LOM", Yekaterinburg - 2010-2016
II International Biennale of Graphic Arts "White InterNights BIN 2006", Saint-Petersburg - Laureate of the V. A. Vetrogonsky Prize
I Prize at the Festival of Park Marble Sculpture, Yekaterinburg - 2008
Awarded First Prizes at the International Festival "LOM", Yekaterinburg - 2010-2016
About the artist
The artist produces paintings, installations, video art and public art pieces.
Sergei Laushkin lives and works in Ekaterinburg.
Born in 1953 in the village of Preobrazhenka, Orenburg region.
In 1973 graduated from the Cheboksary Art College.

The artist participates in exhibitons since 1994, and since then he has participated in more than a hundred art exhibitions in galleries in Moscow, Saint Petersburg, Ekaterinburg and abroad.

In 1996 Sergei Laushkin organised 'The Union of Good Artists' in Ekaterinburg
2006 - laureate of the II International Biennale of Graphics "White Inter-Nights BIN 2006", Prize. V. A. Vetrogonsky, Saint Petersburg
2008 - 1st place at the Festival of Park Marble Sculpture, Ekaterinburg
2014 - internship at the Lichtenberg Studio residence, Berlin
2018 - creative residence at the Gallery 2025, Hamburg, Germany

From 2010 to 2016 for four times Sergei Laushkin has been awarded first places at the International Festival 'LOM,' Yekaterinburg.

The artist's pieces are found in Russian and foreign museum collections and galleries, as well as in famous private collections, including the collection of Her Majesty the Queen of Jordan.


Solo Exhibitions

1994 - "Quiet Life", Ekaterinburg House of Artists.
1998 - participant of the International Festival of Arts "OTTO ARTE", Italy.
1999 - All-Russian State Center "Nevograf", Saint Petersburg.
2000 - "Nov", Ekaterinburg Museum of Fine Arts.
2001 - "Far Far Away", Courtesy of Unseen Russia, Global Art Venue, Seattle, USA
2002 - Kronos Gallery, Wayn Island, Washington, USA
2003 - For Love, Ekaterinburg Museum of Fine Arts, Ekaterinburg, Russia
2004 - an exhibition at the Microsoft Corporation, USA
2005 - "Champagnes", Museum of Nonconformist Art, Pushkinskaya, 10, Saint Petersburg, Russia 2006 - Hay Hill Gallery, London, UK
2007 - "Oil on Canvas", Central House of Artists, Krymsky Val, 10, Moscow, Russia
2010 - "Point skhoda", X-MAX Gallery, Ufa, Russia
2013 - "Tea House", Central House of Artists, Krymsky Val, 10, Moscow, Russia
2015 - "The myth of the step zone. Sergei Laushkin, Antonov Gallery, Ekaterinburg, Russia
2018 - Stepped Rhythms, Yeltsin Center, Ekaterinburg
2020 - The Two Persons Make One Step, Sinara Art Gallery, Ekaterinburg


Group Exhibitions

1996 - Union of Good Artists, Ural Museum of Youth, Ekaterinburg , Russia
1999 - "Meetings", Exhibition of the S.P.A.S. Gallery, De Wijk, Netherlands
2001 - International Art Salon, Central House of Artists, Moscow, Russia
2002 - Novosibirsk International Graphics Triennial, Novosibirsk, Russia
2003 - "Ballet. Ballet? Ballet!", DAR Gallery, Zurich, Switzerland
2004–2005 - Academic traveling exhibition "Ural", Ufa, Chelyabinsk, Ekaterinburg, Surgut, Nizhnevartovsk, Khanty-Mansiysk, Saint Petersburg
2005 - "ART LONDON", Artek gallery, London, UK
2006 - International Graphic Biennale, Central Exhibition Hall Manege, Saint Petersburg, Russia 2009 - Art-Zavod, Ekaterinburg, Russia
2012–2013 - Affordable Art Fair Amsterdam, Amsterdam, Netherlands
2014 - Series of Public Art Projects in Berlin, curated by Uwe Jonas, Berlin, Germany
2015 - "On the Edge of Europe", Erarta Museum of Contemporary Art, Saint Petersburg, Russia 2016 - "Open Systems", project of the Garage Museum, Ural branch of the NCCA, Ekaterinburg, Russia
2017 - "Taming the Void", ROSIZO State Museum and Exhibition Center , Moscow
2019–2020 - Special project of the 6th Moscow Biennale of Contemporary Art "Art in an Imaginary Future", Ural branch of the NCCA, Ekaterinburg
2020 - Triennial of Russian Contemporary Art, Garage Museum of Contemporary Art, Moscow
Art critic's comment
The early artworks of Sergei Laushkin reveal the strongest side of his talent. The artist acts as an innovator, and he is often ahead of the modern artistic process. His laconic landscapes convey metaphorical motifs. The artist has memories, emotions and stories associated with the mountains and forests of the Urals, the mesmerising views of the Gulf of Finland and the harsh straightforwardness of urban landscapes, and all of these are masterly expressed in his paintings.

Skillfully selecting his palette, not only the artist demonstrates a subtle perception of open, pure colours, but he also conveys his emotions through colours, which, in fact, is the key to the viewer's heart. Notably, the artist is especially active in using colours when depicting people. As a result, faceless images acquire individuality and character in the artist's paintings. The artist observes the diversity of citylife, carefully listens to the sounds of the urban space, and reveals the characters of people with the help of colour.

The originality of the compositional approach and the power of the artist's wit and idea always ensure the depth of content in his paintings, which are difficult to comprehend without associative thinking. For this reason, the artist's paintings and their subjects allow a variety of interpretations.
As an artist, Sergei Laushkin is open to unexpected experiments in terms of composition, form, plasticity and combinations colours. The artist's pieces relate to the tradition of contemporary European art in general, and especially to art movement of Expressionism.