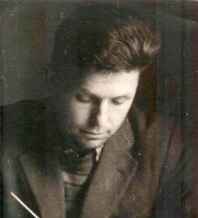 Artist Yuri Sidorovich
About the artist
Born in 1925 in the village of Lebed (Novosibirsk region), in a peasant family. His father was a Port Arthur defense veteran and a knight of the George cross. After dispossession of kulaks in 1928, his family moved to Kemerovo, where Yuri Sidorovich graduated from high school.

In 1941, he was hired at the tank factory, but due to serious illness-pulmonary tuberculosis, he was forced to leave this job and entered the Sverdlovsk art school. After graduating from art school, he worked at various enterprises of the city of Sverdlovsk, majoring in graphic design. The main work of Yuri Ivanovich was the design of shop windows. Its showcases were repeatedly recognized as the best in the city, noted by articles in newspapers. But it was a though favorite, but the craft is a way to feed the family. All the years of his life he painted pictures, most of all landscapes. It was his main passion. He wrote on weekends, on holidays, in different places of our homeland: in the Urals, in Siberia, in Latvia, in the Caucasus, in Georgia, in Kazakhstan, in the Arctic, in Transcarpathia.

Yuri Ivanovich rarely participated in exhibitions: for this reason, he was not known to the General public. But his paintings speak for themselves. In his paintings, there is an amazing property-the forest depicted by him, or a bouquet of flowers or a city street can be admired for a long time, finding in them all a new meaning.

He did not stop working and retired, continuing to write until his last days. Yuri Ivanovich lived a long 85-year life. He died in 2010. But his paintings continue to please the hearts of people.