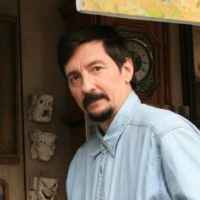 Artist Alexander Kremer
About the artist
Alexander Markovich Kremer was born on July 21, 1958 in St. Petersburg.Landscapes of the Russian north, the rapid change of seasons, the birch forest and the boundless spring sky had a profound influence on the creative nature of Alexander, who grew up next to a great artistic tradition (Alexander Markovich belongs to a famous dynasty of painters with deep historical roots).

Alexander Kremer has been exhibiting in Russia and internationally since 1980.Solo exhibitions: 1993–1999 – Kronberg - Frankfurt /Germany/.1995-2003 - Dix Gallery, Helsinki /Finland/.1997 -1998 – gallery "Ružovýa čistička" - Pink Hill /Czech Republic/.Alexander Kremer is a regular participant of exhibitions of the Union of Artists in the halls of the CX and in the Manege, as well as exhibitions in the famous Belgravia Gallery, London /England/. Art critics note the artist's unique gift to convey the mood and light of winter landscapes. His painting, permeated with light, filled with air and freshness, brings the joy of life and hope. The inspired landscapes fascinate with the iridescence of subtle colorful transitions, airy lightness, transparency of the picturesque matter and the flickering glow of colors inherent only in the paintings of this painter.Alexander Kremer is also well known for painting portraits, still lifes. Under the mood, he is engaged in works performed in the technique of wood carving, and the manufacture of jewelry.

The artist's works are in private collections in Russia, Finland, England, China, Germany, USA, Czech Republic and Japan.