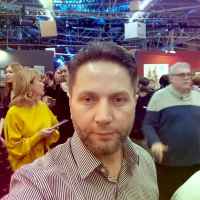 Artist Dmitry Balakhonov
2018 - an award for the high artistic level of the presented paintings - Interregional exhibition Art-Rostov
2015 - Jury Prize - Art-Chelyabinsk Exhibition
2016 - Jury Prize - Art-Russia International Exhibition
2021 - Jury Prize - Art-Perm International Exhibition
2018 - an award for the high artistic level of the presented paintings - Interregional exhibition Art-Rostov
2015 - Jury Prize - Art-Chelyabinsk Exhibition
2016 - Jury Prize - Art-Russia International Exhibition
2021 - Jury Prize - Art-Perm International Exhibition
About the artist
Born in 1971 in the Magadan region. Graduated from the Art College named after Larin in the town of Bobruisk.

1989 - 1991 - military service at the Baikonur Cosmodrome.

1996 - 1998 - lived and worked in Tel Aviv, on the Mediterranean coast.

Having returned to his native country in the 2000s, the artist continued his path of creative development. He kept working on improvements in his painting technique and focused on mastering the skills of creating seascapes.

Member of Russian Association of Marine Artists (RAHM).

The artist regularly participates in various art forums and exhibitions in Saint Petersburg, Rostov, Perm, Yekaterinburg, Kazan, etc.
Art critic's comment
The sea has always been the main source of inspiration for Dmitry Balakhonov. The artist has spent several years living on the coast of the Mediterranean Sea. It was a very fruitful time, full of impressions and creative ideas. This period has determined the range of artist's interests, as well as his willingness to develop as a marine painter. Having perfectly mastered oil painting technique, Dmitry Balakhonov continued deepening his knowledge and practical skills. He addressed established master painters for pieces of adivce and thoroughly studied the art of Dutch and German painters from the previous centuries.

The image of the sea in the work of Dmitry Balakhonov is everchanging. The artist subtly feels and skillfully conveys different states of nature and the sea with its freshness and the spirit of freedom. The painter masterly depicts the beauty of sunsets and romantic views of the sea in the morning. In his work, the artist also develops the topic of interaction between the sea and a man. Peaceful views with picturesque silhouettes of ships, fishing boats, and marine battles - the presence of a person enlivens seascapes, making them even more diverse and natural.