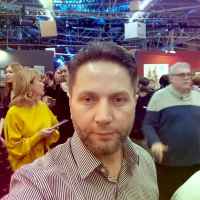 Artist Dmitry Balakhonov
About the artist
He graduated from the Art school named after Larin (Bobruisk).
In 1991 he finished his military service, and until 1998 he lived abroad on the Mediterranean sea. All this time he did not leave painting classes, continued to study privately with established masters of painting. It was during this period that the formation of the marine artist took place. The artist pays special attention to seascapes and subjects of life at sea. He prefers to work in multi-layered painting technique, as did the old German masters.
Member of the Russian Association of marine artists.
A regular participant of various art venues held in the former Soviet Union, in the cities of St. Petersburg, Rostov, Perm, Yekaterinburg, Kazan, etc.