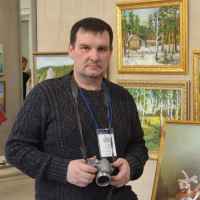 Artist Stanislav Chadov
About the artist
Professional artist of the classical school. Prefers to paint still lifes and subject paintings. The main thing for the artist - the transfer of a special state of mind and atmosphere in the painting.

He was born in Kamensk-Uralsky in 1963. He studied at the creative studio of artist and teacher of Vladimir Sukhanov, then at the Victor Kubrak school of art "Juventus". He worked as a graphic designer in Kamensk-Uralsky medical school, teaches painting in school number 1 in Kamensk-Uralsky.

Since 2006 - a participant in various exhibitions.