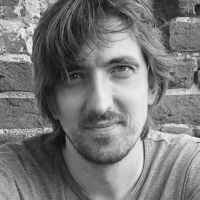 Konstantin Fomin
About the artist
Konstantin Fomin - Moscow graphic artist, architect, member of the Union of Moscow Architects, member of the Union of artists of TTX.
Originally from the Volga coast. Got a classic art education at the school of art Balakovo. He received an education (architecture) in ICAMS and at the Moscow art Institute, I took a course in book illustration
from Tatyana Nikitina, associate Professor of illustration
Moscow State University of Printing, at the Bratec lis school in Moscow.
Since 2004, Konstantin has been living and working in Moscow. At
he has more than 20 years of architectural practice behind him,
wins in architectural competitions.
Konstantin took part in the construction
At the Moscow school of management in SKOLKOVO, as the main lead architect, he worked on many other major projects, including interior design. However, drawing has always held a special place in his life. In recent years, his professional vector has been directed towards the artistic one
activities. Konstantin develops several creative projects, is a laureate and diploma winner of Russian and international art competitions, actively exhibits, and participates in the exhibition of contemporary Russian artists in Miami: art gallery
EMPORIUM", in parallel with the film festivals, in the Art Studio in Wynwood, in parallel with Art Basel Miami and in the gallery Rart_ekb in Yekaterinburg in the exhibition "through the Eyes of mother", received 1 place in the category of pastel At the "international Art Salon in Gostiny Dvor"; in the International
exhibition and competition of contemporary art: "Italian Art Week" ITALIAN art WEEK
- 1st place in the Dry pastel competition-Italy, Sicily, Caltagirone, participant of the contemporary art fair ArtRussiaFair 2020 in Gostiny Dvor as a resident of the Art-Offiece Gallery FEDINI, participant of the Annual exhibition "Moscow pastel" of the Moscow Union
Artists in the hall of the Ministry of agriculture Kuznetsky most 20
Konstantin Fomin works mainly in soft techniques: pastels, charcoal, and sanguine.
The artist is inspired by the human body-figurative graphics and painting. He pays special attention to the artistic interpretation of the theme of time and infinity, emotionally expressed through corporeality. Working in a soft technique involves close contact of the hands with the surface of the sheet. Therefore, the images created by Constantine are literally sculpted on a plane or carved using methods similar to the work of a sculptor. This is a graphic that partly resembles impressionism, in a free, almost sketchy manner, reflecting the transience of time and focusing the viewer on the beauty of the stopped moment.
Fomin likes to experiment and always discovers something new. This is the freedom to be
to be yourself, to accept yourself and your creativity, to do what seems important at the moment, which is consonant with time and interesting. Such a schedule is harmonious and in exhibition spaces and in the interiors of different styles. Creates completeness, puts the right emphasis.
Konstantin Fomin also works in oil, graphite, ink, book illustration, electronic painting, and develops installations.