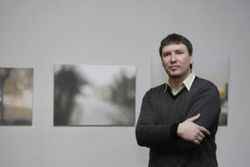 Artist Yuri Pervushin
Winner of the Art Contest dedicated to Nicolas Poussin. Louvre, Paris
Scholarship holder of the Presidential Foundation in Support of Young Specialists in the Sphere of Arts and Culture
Internship at the Higher National School of Fine Arts in Paris
Winner of the Art Contest dedicated to Nicolas Poussin. Louvre, Paris
Scholarship holder of the Presidential Foundation in Support of Young Specialists in the Sphere of Arts and Culture
Internship at the Higher National School of Fine Arts in Paris
About the artist
Member of the Artists' Union of Russia.
Born in 1970 in Nalchik.
In 1989 Yuri Pervushin graduated from the Sverdlovsk Art School named after I. D. Shadr.
In 1995 graduated from the Graphic arts faculty of The St. Peterburg Academic Institute of Painting, Sculpture and Architecture named after Ilya Repin (studio of professor A.A. Pakhomov).
In 1995 interned at the École nationale supérieure des beaux-arts in Paris (painting studio of prof. B. Piffaretti and engraving studio of prof. J.-P. Tanguy).
In 1995 - laureate of the contest dedicated to N. Poussin (contest organisers: the Louvre Museum, Museum of Modern Art, Paris and the LVMH Company).
From 2000 - Fellow of the Presidential Fund in Support of Young Culture Professionals. Lives and works in Saint Petersburg.
From 1990 Yuri Pervushin has participated in more than 100 personal and group exhibitions in Russia and abroad.
The artist's works are found in museum collections:
Benois Family Museum (Peterhof State Museum-Reserve),
State Museum of Fine Arts (Yekaterinburg), Contemporary art collection at the Manezh Central Exhibition Hall (Staint Petersburg),
Guggenheim Museum Bilbao (Spain),
Museum of Contemporary Russian Art (New Jersey, USA),
Municipal Arts Center (Wress, Belgium),
House-Museum of M.P. Mussorgsky (Velikie Luki),
Vologda State Museum of Fine Arts.
Yuri Pervushin's artworks are also found in private collections in Australia, Belgium, Great Britain, in the Netherlands, Russia, USA, France and Finland.
Art critic's comment
Yuri Pervushin's artworks stand out at the contemporary art market due to the stylistic originality of the artist's manner, inimitable color palette and special painting technology. The artist himself refers to his original manner as 'vanishing painting.' The originality of this artistic manner consists in smoothening and softening the outlines of figures, which allows showing the surrounding air. As a result, the images in Yuri Pervushin's paintings seem to be covered with a light haze.

The soft, light colour palette of landscapes and still-lives creates special atmosphere. The world in the artist's paintings is filled with sunlight and warmth, these artworks radiate calmness and harmonise interior space. In his still-lives with flowers, toys and fruit the author studies the objects thoroughly and depicts them close-up. Yuri Pervushin underlines the importance of these simple things and focuses on them so closely that it allows comparing his approach to meditation techniques.

The artist's landscapes are inspired by his Russian and European trips. The diversity of Pervushin's landscapes is demonstrated by the variety of subjects, including the views of cities and nature, as well as seascapes. The landscapes by Yuri Pervushin invite viewers for an easy stroll and, similar to his artworks in other genres, contain meditative tranquility.