Technique
Genre
Fine and Contemporary Art
Keywords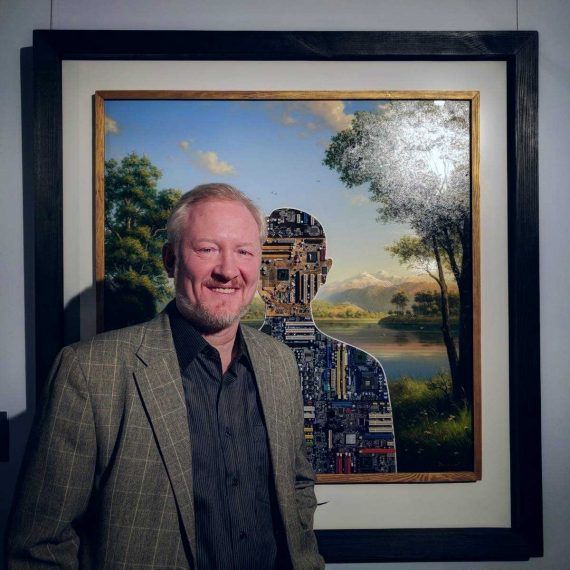 About the artist
"I grew up in a Museum (my mom is an art critic). It developed in me the ability to notice the beautiful and share it with associates. Leonardo, Monet, Kandinsky gave me the opportunity to understand what is perfection in art. I've never tried to compete with them; rather, I pass my a unique path, and I hope that it will enrich the art."

The artist was born in Leningrad in 1970. From the age of 3, he lived in Almaty, in 1992 he graduated from Almaty art College. From 1992 to 1997 he was the representative and organizer of numerous exhibitions in the gallery "Dostyk" at the office of the President of the Republic of Kazakhstan. Since 1995 he is a member of the Union of Artists of Kazakhstan. From 1997-98 he worked in Prague (Czech Republic), together with the Embassy of Kazakhstan he organized and participated in exhibitions in countries of the European Commonwealth. 1998-2001- he worked in St. Petersburg. After 2007Damir is a member of the Union of artists of the Russian Federation.

Member of a large number of exhibitions in Russia, Kazakhstan, Czech Republic, Hungary.

"I'm preaching to the feelings and I talk about how they are multifaceted and their diversity is simple
infinitely. They are quite easy to convey through color symbols, conceptual painting, and it can be clear to almost every viewer. Therefore, each of my works is a parable, it has its own story and it tells it. Very often these stories are about how our emotional world is filled with feelings that we do not notice, as well as the fact that we always have the right to choose and we bear responsibility for it because it entails changes in our lives."
Payment methods and delivery options
Оплатить заказ наличными можно на кассе галереи или при получении у курьера, банковской картой, банковским переводом по расчетному счету Вы всегда можете забрать работу в ближайшем от вас филиале RakovGallery, получить с курьером в городах присутствия или транспортной компанией
Read more