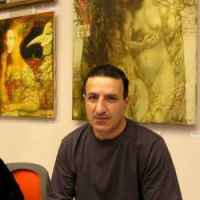 Artist Armen Gasparyan
About the artist
Born in 1966 in the city of Kapan, South Armenia. 1984 - moved to Saint-Petersburg. In 1993 graduated from the Graphic Arts Faculty of the Russian State Pedagogical University named after A.I. Herzen. Member of the Saint-Petersburg Union of Artists. The artist has participated in a variety of personal exhibitions in Russia, the Netherlands, Germany, Switzerland, etc.

Art critic's comment
Armen Gasparyan has his own artistic language, combining the traditions of classical art with the search for new forms of expression. The personages of his paintings recall the images from Biblical history and fairy tales; among them are harlequins, jesters, kings and philosophers. The artist depicts women feminine and gentle, while men are shown thoughtful and powerful.

Gasparyan is a wonderful storyteller, his paintings are filled with deep philosophical thought and evoke associations with the Venetian carnival and Biblical Babylon.